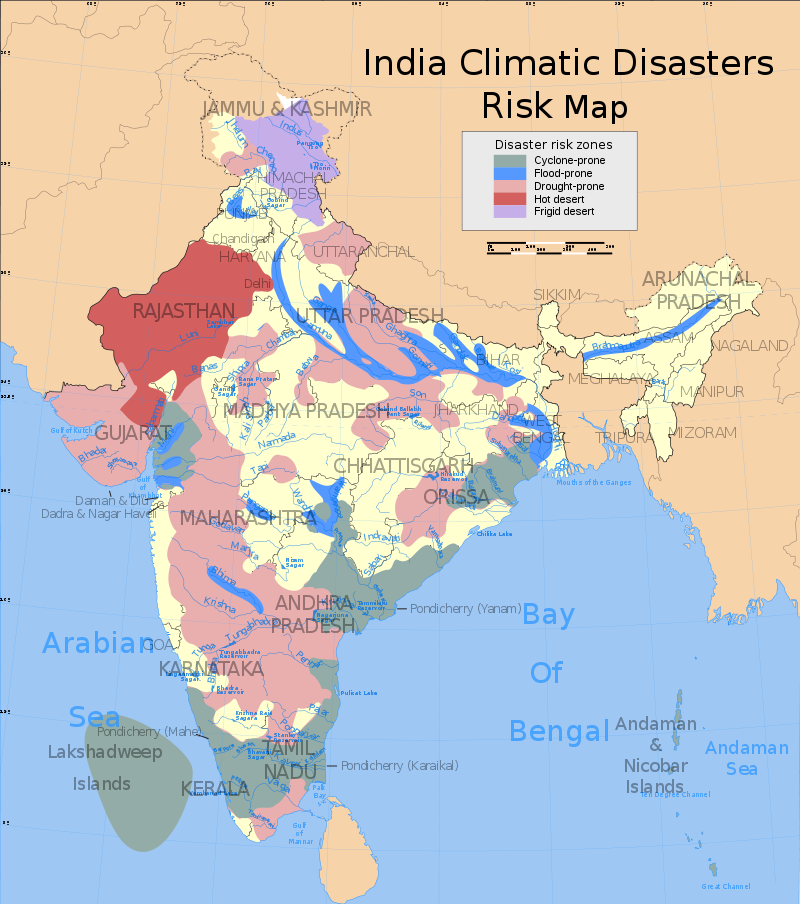 Disasters Can be Classified into the Following Categories:

Water and Climate Disaster: Flood, hail storms, cloudburst, cyclones, heat waves, cold waves, droughts, hurricanes.


Geological Disaster: Landslides, earthquakes, volcanic eruptions, tornadoes.


Biological Disaster: Viral epidemics, pest attacks, cattle epidemic and locust plagues.


Industrial Disaster: Chemical and industrial accidents, mine shaft fires, oil spills.


Nuclear Disasters: Nuclear core meltdowns, radiation poisoning.


Man-made disasters: Urban and forest fires, oil spill, the collapse of huge building structures.
India is vast and diverse in terms of its physical and socio-cultural attributes. It is largely due to its vast geographical area, environmental diversities, and cultural pluralities, India is struggling with disasters for many years.

Its vastness in terms of natural attributes combined with its prolonged colonial past, continuing various forms of social discriminations and also equally large population has enhanced its vulnerability to natural disasters.

Killer waves (tsunami) struck the coastal parts of India on 26th December 2004 or the morning of 26th January 2001, when western part of India was badly affected by the earthquake or recent flash flood in the Uttrakhand or Cyclone Phalin at Odisha coast.
These are just a few examples. We always listen to such kind of news
in print or electronic media that one part of India is affected by flood whereas another faces drought. Due to the vulnerability of different kinds of disasters, it is said that India is a disaster-prone country, the reasons are:

85% vulnerable to single or multiple disasters
12% is flood-prone,
8% is vulnerable to cyclones and
57% of the area lies in high seismic zones
40 million hectares prone to flood = ~12% of the total area
8% area vulnerable to cyclone
68% area is susceptible to drought
Out of 35 states and UTs- 27 are prone to one or more of these events Some areas are vulnerable to industrial, chemical and biological disasters
Classifications of Natural Hazards

Researchers have been studying disasters for more than a century. The studies reflect a common opinion when they argue that all disasters can be seen as being human-made, their reasoning being that human actions before the strike of the hazard can prevent it developing into a disaster.
All disasters are hence the result of human failure to introduce appropriate disaster management measures Hazards are routinely divided into natural or human-made, although complex disasters, where there is no single root cause, are more common in developing countries.

(1) Man-made Disasters: Disasters caused by human action, negligence, error, or involving the failure of a system are called human-made disasters. Human-made disasters are in turn categorized as technological or sociological. Technological disasters are the results of the failure of technology, such as engineering failures, transport disasters, or environmental disasters. Sociological disasters have a strong human motive, such as criminal acts, stampedes, riots, and war.

(2) Natural Disasters: Broadly, natural disasters can be classified under four categories

Agencies Involved in Disaster Management
National Disaster Management Authority (NDMA):- The National Disaster Management Authority, or the NDMA, is an apex body for disaster management, headed by the Prime Minister of India. It is responsible for the supervision, direction and control of the National Disaster Response Force (NDRF).

National Executive Committee (NEC):- The NEC is composed of high profile ministerial members from the government of India that include the Union Home Secretary as Chairperson, and the Secretaries to the Government of India (GoI)like Ministries/Departments of Agriculture, Atomic Energy, Defence, Drinking Water Supply, Environment and Forests etc. The NEC prepares the National Plan for Disaster Management as per the National Policy on Disaster Management.


State Disaster Management Authority (SDMA):- The Chief Minister of the respective state is the head of the SDMA.The State Government has a State Executive Committee (SEC) which assists the State Disaster Management Authority (SDMA) on Disaster Management.


District Disaster Management Authority (DDMA):- The DDMA is headed by the District Collector, Deputy Commissioner or District Magistrate depending on the situation, with the elected representatives of the local authority as the Co-Chairperson. The DDMA ensures that the guidelines framed by the NDMA and the SDMA are followed by all the departments of the State Government at the District level and the local authorities in the District.


Local Authorities:- Local authorities would include Panchayati Raj Institutions (PRI), Municipalities, District and Cantonment 11 Institutional and Legal Arrangements Boards, and Town Planning Authorities which control and manage civic services.
Practice the following Questions
Q-1 With reference to National Disaster Management Authority (NDMA) guidelines, discuss the measures to be adopted to mitigate the impact of recent incidents of cloudbursts in many places of Uttarakhand. (2016)
Q-2 Are Indian Disaster Management Agencies properly equipped to handle a major disaster. Critically analyze the strengths and weakness of Indian Disaster Management Framework.